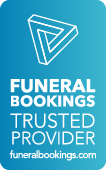 Tribute Funeral Service is proud to be at the leading edge of Funeral Service Provision in Victoria, with the introduction of FuneralBookings.com.
Online services has become part of every day life, banking, holidays, accommodation, airline, eating, news, social, entertainment, buying good and services.

Now you can organize and purchase a Funeral Service, in the comfort of your home, office or other venue, from your smartphone, tablet or PC, through FuneralBookings.com.
Download the App which is available for Apple and Android, and experience how stress free organizing a Funeral Service is now..
Tribute Funeral Services, innovating to provide our families the best Services available from the Leading Top 10 Funeral Director in Melbourne.